Introducing an Ultra-Lightweight WordPress Plugin: Mitis Popup
Mitis is a product range of small but very usefull plugins. Mitis Popup is a WordPress plugin designed to simplify the process of creating and managing pop-up messages on your website. This plugin is incredibly lightweight and user-friendly, making it accessible for both beginners and experienced WordPress users.
Key Features:
Simple Popup Setup: With Mitis Popup, creating pop-up messages is a breeze. Just enter the text you want to display in the popup, set the end date for when you want the popup to expire, and you're all set.
Only once
The popup only appears the first time in 1 session. It shows only on the first page that is opened. Regardless of what page that is.
A cookie is set that prevents the popup from opening on every page, again and again.
Don't annoy your visitors and still make sure they have seen the message.
One-Click Dismissal: When a visitor interacts with your pop-up by clicking the "OK" button, both the popup and the grey page overlay will instantly disappear. It ensures a seamless and frustration-free user experience.
Auto Expiry: You won't have to worry about expired pop-ups cluttering your site. Mitis Popup automatically prevents the pop-up from appearing once the specified end date is reached.
Familiar Text Editor: Customizing the content of your pop-up is a breeze. We've integrated the well-known TinyMCE editor, which you're already familiar with as a WordPress user. Easily edit your pop-up text without any hassle. Please note that media elements cannot be added within the pop-up.
Your Font
The fonts used in the popup are automaticaly set. It always displays the message with the default font that is also used by the theme. No extra styling necessary.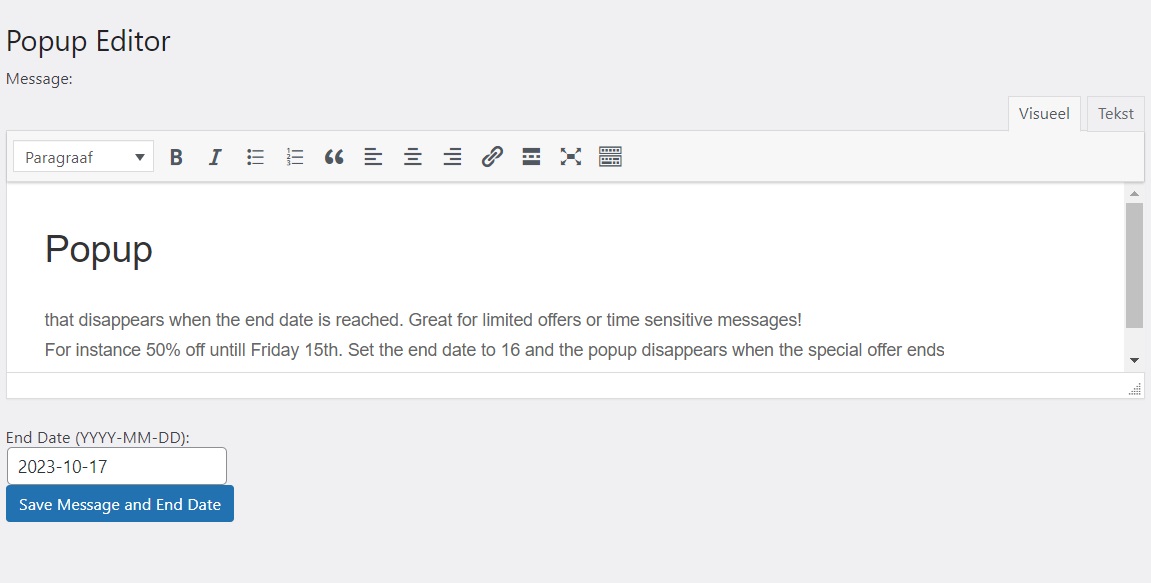 Unobtrusive Design: Out of the box, the Popup Plugin offers a clean and unobtrusive design. We've intentionally kept it simple, focusing on functionality. This means there are no built-in options to set colors or customize the appearance. However, if you have CSS skills, you can modify the CSS file to personalize the pop-up's look to match your website's style.
In a nutshell, this WordPress Popup plugin is your go-to solution for adding informative and time-sensitive messages to your WordPress site.
It's an excellent choice for users who simply want to display a message on their site untill a certain date.
If you are interested, drop me a mail loading...
Other usefull plugins:
RDW for WordPress plugin (dutch only)
Hex Color to RGB and HSL Converter
RAL Color to HEX and RGB Converter